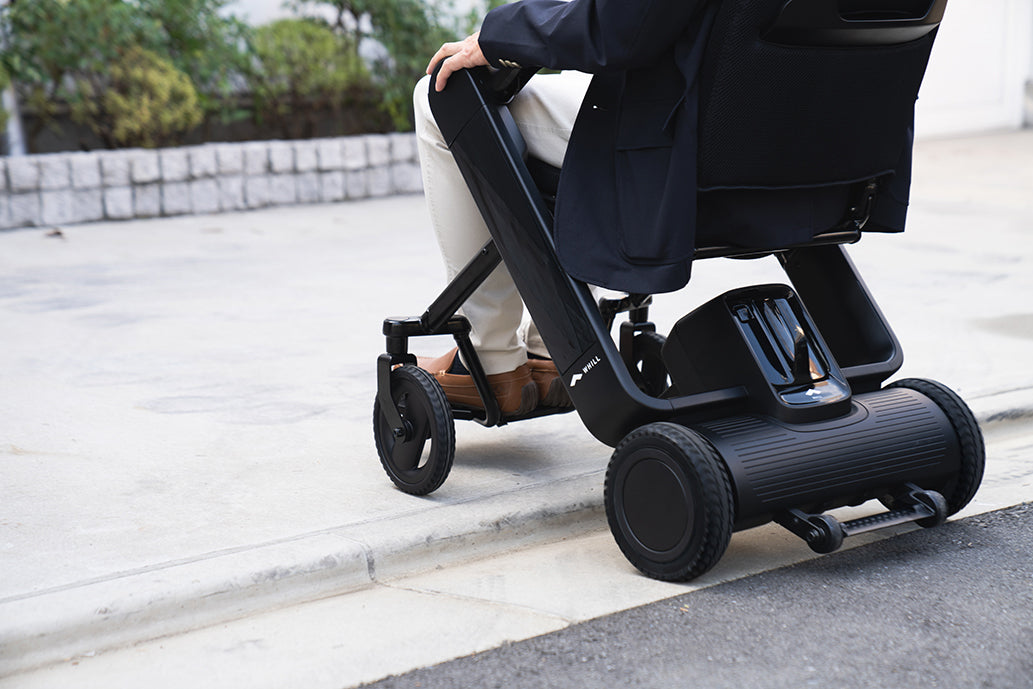 The new Model F from the award-winning team at WHILL has everything you need in a travel power chair. Lightweight, foldable, and highly maneuverable, the WHILL Model F allows you to get out and explore your world with greater mobility and independence.
The Model F is WHILL's first foldable power chair. Its design allows it to be transported on planes, buses, trains, or in the trunk of a car or taxi with ease. When you're not using it, the Model F power chair can be conveniently stored in a closet or out-of-the-way corner of the room.
Are you looking to personalize your ride? There are a variety of popular accessories available for the WHILL Model F folding power chair, including a convenient storage basket, lap belt, cane holder, side bag, and a smart key that allows you to lock and unlock the device remotely.


Model F Key Features
Foldability: The WHILL Model F is designed to make life easier while you're traveling or working. It is extremely portable, folding in less than 3 seconds for transportation or storage. Length is only 18.6" when folded, allowing the Model F to be easily transported on a plane, train, bus, or in the back of a car, van, truck, taxi, or Uber.
Lightweight: Weighs only 52.9 lb. when the battery has been removed (58.9 lb. if battery is left attached). Can be lifted into the back of a vehicle by a caregiver or loved one.
Customization: Back angle, controller height, controller side, arm height, and arm width (16"/18") are all adjustable. Choose from 5 different arm colors to suit your style!
Maneuverability: 30.7" turning radius allows you to turn in narrow spaces such as elevators, bathrooms, office cubicles, and hallways.
High Performance: The Model F foldable power chair has a 20-kilometer range per charge, 250-pound weight capacity, and a 6 km/h top speed. Climb over obstacles up to 1.4" high and drive up or down inclines of up to 10°.
Remote Control: Use the WHILL app to remotely drive the Model Fi with your smartphone.
Battery: Lithium-ion battery is airline friendly.
Storage: Under-seat storage basket and side bag can be purchased as optional add-on accessories.


The Bottom Line
While the WHILL Model F is more lightweight than its predecessors, it still provides users with the same superior performance and intelligent design that WHILL power chairs are famous for. From a tight 30.7" turning radius, to its ability to be remotely controlled using the WHILL smartphone app, the Model F is loaded with extra features that will make life more convenient for you and your loved ones.
With its lightweight design and intelligent features, the WHILL Model F is one of the best folding power chairs on the market.