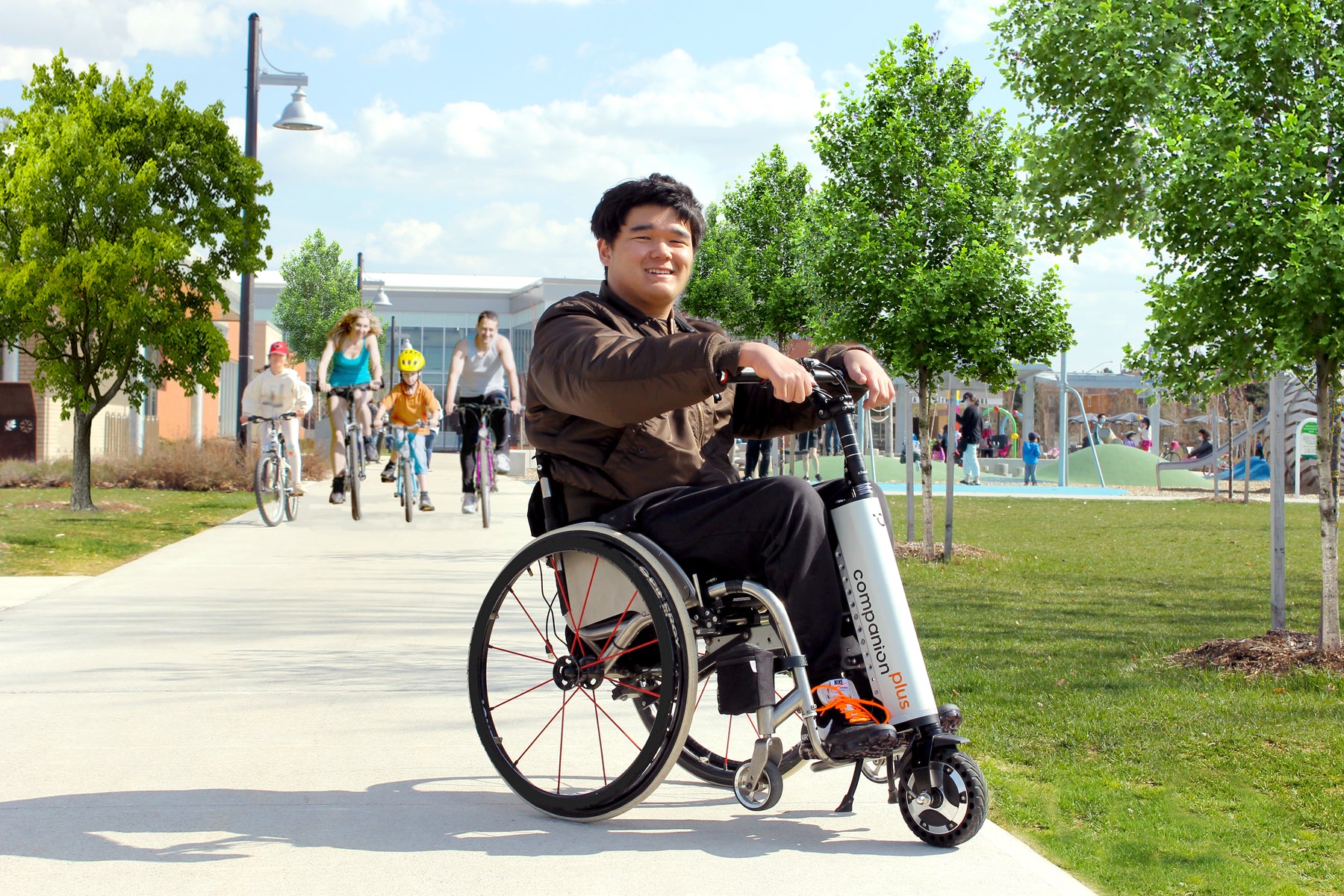 Release: Cheelcare Launches Companion Plus
FOR IMMEDIATE RELEASE 
Cheelcare Releases Companion Plus 
Richmond Hill, ON (May 19, 2021) – Cheelcare, a Canadian innovator of assistive mobility products, is proud to be announcing the release of Companion Plus – an enhanced version of their front-mount Power-Assist device for adult and pediatric users of folding and rigid manual wheelchairs. 
The Companion Plus boasts the same unparalleled sleek footprint as the base model from which it's derived. However, it features key upgrades to its motor, controller, tire, mounting hardware, and LCD display. 
"Cheelcare is on a mission to radically improve the quality of life and independence for people with physical disabilities. We enhanced every component of Companion Plus to offer a premium power assist device for wheelchair users looking for elevated performance and an even greater ride experience." Eugene Cherny, CEO. 
Companion is Cheelcare's signature Power Assist System that provides electric-powered support to manual wheelchair users. It helps its users travel further in circumstances that challenge their endurance while reducing strain and injury.  Its patented design is revolutionizing the individuality of assistive mobility devices with its unmatched personalization options that can tailor the Companion's look and function to suit its user's needs and lifestyle. 
Companion Plus can be ordered from Cheelcare's global network of dealers. More information on Companion and Companion Plus, their benefits, and how to purchase one are available at www.cheelcare.com/companion. 
- 30 - 
Cheelcare is a Canadian designer and manufacturer on a mission to radically improve quality-of-life and independence for people with physical disabilities by creating innovative mobility devices that prove themselves in everyday life. Cheelcare's proprietary technology and patented design blend together in three lines of assistive mobility devices and accessories. Robotic wheelchairs provide functionality, efficiency and benefits to users and caregivers. Innovative design reduces manufacturing costs and enables dealers to significantly shorten users' wait time. Power add-ons to manual wheelchairs increase independence and comfort while accessories help users to be connected and safe. Their advanced robotic pediatric electric wheelchair, named Curio, is set to launch later this year.   
Information:  
Allex Laurin, Director of Marketing, Cheelcare  
alaurin@cheelcare.com